S.S. North American
FOR IMMEDIATE RELEASE 26 October 2006
See more images of the North American here.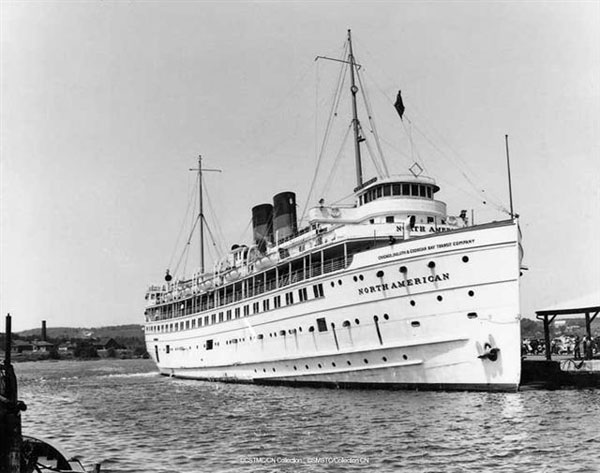 Lost Passenger Ship Located in Atlantic by team From Quest Marine Services.
The Great Lakes passenger ship S.S. North American which sank in September of 1967 while on a voyage from Erie PA. to Newport News VA has been found. A research team, this past July aboard Quest Marine's R/V Quest located the ship close to the edge of the continental shelf approximately 140 miles off the New England coast in 250 feet of water.
Considered the Queen of the Great Lakes, the SS North American was built in Ecorse Michigan, and launched January 16th 1913. Constructed for the Chicago Duluth and Georgian Bay Transit Company she was the first ship built anywhere exclusively for cruising, her career on the Great Lakes spanned 51 years from 1913 to 1964. In 1967 the ship was sold to the Seafarers International Union for further use as a training ship. The 280', 2317 gross ton ship was being towed by the tug Michael McAllister to a shipyard for conversion to a training ship when it sank suddenly on the night of September 13th, 1967. Swells from approaching hurricane Doria proved too much for the aging ship and contributed to her loss. No one was injured in the sinking and the tug reached port safely.
Quest Marine's research team led by Captain Eric Takakjian conducted three days of survey diving operations at the wreck site over the period 15-17 July 2006. Three dive teams of two divers each accomplished photographic and physical measurement documentation of the wreck. The divers included Takakjian, Patrick Rooney, Steven Gatto, Tom Packer, Heather Knowles and David Caldwell. Due to the depth all dive teams breathed custom blended helium based gas mixtures. Decompression was accomplished with the use of multiple oxygen-enriched gases.